What's New Here?
Librairie fermée. Bookshop closed.
---
Bibliophilia
Tohu-Bohu
Rare Books Business
---
La description de l'Egypte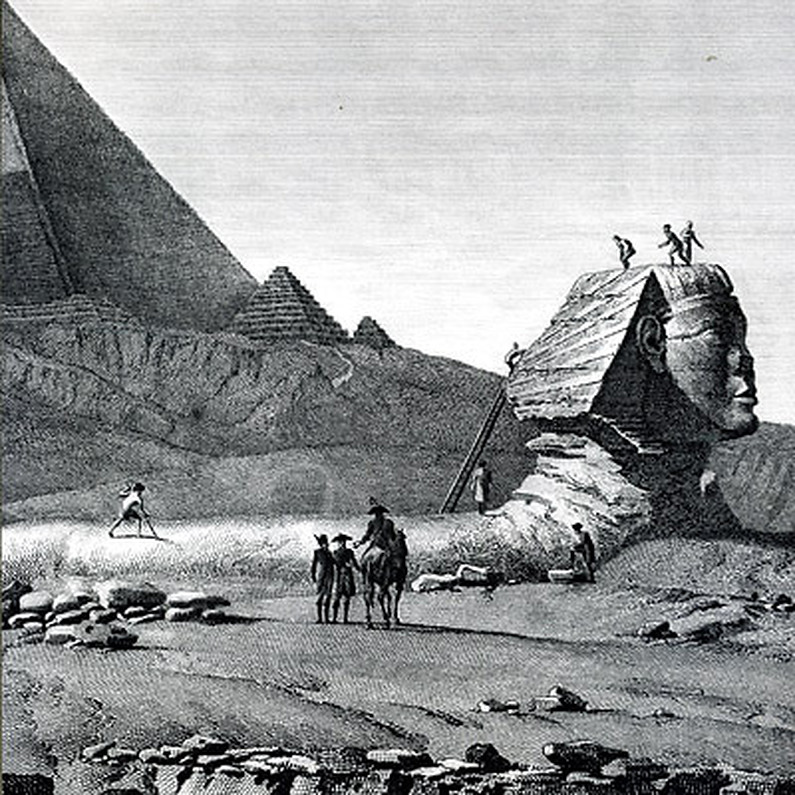 En mai 1798, le général Bonaparte embarque à Toulon pour l'expédition।Au millier de soldats s'ajoute un bataillon de 160 civils, l'élite scientifique et intellectuelle du Directoire -- du mathématicien Monge au chimiste Berthollet, du zoologiste Geoffroy Saint-Hilaire à l'écrivain Vivant Denon, futur directeur du Louvre. Au Caire, ces savants fondent l'institut d'Egypte, engrangeant une moisson d'informations sur les « antiquités », l'« Etat moderne », l'« histoire naturelle ». Au final, une somme de 7 000 pages, illustrées de plus de 800 planches superbement gravées. Le premier des 20 volumes de ce trésor éditorial paraît, aux frais de l'Etat, en 1809. Pour célébrer ce bicentenaire, l'exposition aménagée sous le dôme des Invalides présente quelques planches -- trop peu, faute d'espace. Face à ce trophée culturel, même le lourd tombeau de porphyre rouge renfermant les cendres de l'Empereur, dans la crypte en contrebas, ne fait pas le poids. Jusqu'au 21 septembre, au musée de l'Armée, hôtel des Invalides, Paris 7e. Tél. : 08-10-11-33-99. Source: Télérama
---
Big Amazon Brother


Amazon said late Friday that it recalled two Kindle e-books because the publisher lacked the rights to the book. However, in the future, it says it won't pull already downloaded material from customers' devices. The removal of two George Orwell books from the accounts of those who had already purchased them sparked an outcry from customers, bloggers, and mainstream media outlets. "These books were added to our catalog using our self-service platform by a third-party who did not have the rights to the books," Amazon spokesman Drew Herdener said in an e-mail. "When we were notified of this by the rights holder, we removed the illegal copies from our systems and from customers' devices, and refunded customers." Herdener said Amazon won't handle things the same way in the future. "We are changing our systems so that in the future we will not remove books from customers' devices in these circumstances." Some said that Amazon's move appeared to violate its own terms of service. Source: Ian Fried


Shadow Chamber

Roger Ballen


Phaidon, 2005. 1 vol. 127 pages (28x30 cm), broché sous jaquette illustrée. Edition Originale signée par Ballen et daté. Accroc bas du dos sinon Très Bel Exemplaire.




Leonard Freed. Photographs 1954-1990
Cornerhouse, 1991. 1 vol. (26x29 cm) de 191 pages, reliure cartonnée sous jaquette illustrée. Ce magnifique ouvrage contient 189 planches en n&b. Edition Originale. Parfait Etat.




François-Marie Banier. Photographies

Banier (François-Marie)


Paris, Gallimard / Denoël, 1991. Grand in-4 reliure cartonnée et illustrée d'une photo avec jaquette illustrée sous rodhoïd, comprenant plus de 150 photographies n&b et 27 pp. de texte. Magnifique envoi à Isabelle Aaron. Parfait état. Signed.




House of Incest

Anais Nin, Val Telberg


Swallow Press, Chicago, 1958. In-4 broché de 72pp., comprenant 10 photomontages par Val Telberg plus celui en couverture. Bel exemplaire.




Provo, Provo-Anarchistenblad: n° 2 à 15 + 2 fascicules

Collectif: Rob Stolk, Roel van Duyn, L. Schimmelpenninck, H. Korteweg, Constant Nieuwenhuys, B. de Vries, Willem


Amsterdam, Août 1965 - Avril 1967. Revue du premier mouvement de la jeunesse anarchiste et contestataire Hollandaise. 14 numéros pliés ou agrafés. Nous joignons 2 fascicules du même mouvement: "10 maart'66" : et un pamphlet sur Claus von Amsberg.
Etats : N°2 : pliure coin droit, micros déchirures sur premier plat. Intérieur bien. Propre N°3 :...




Les Erotiques du Regard

Marc Attali, Jacques Delfau


Paris, André Balland, 1968. Edition Originale, first edition. In-folio (34,5 x 25,5 cm; 13 1/2 x 10 in) relié, cartonnage pelliculé orné d'une reproduction photographique en couleurs. Ouvrage comprenant 62 reproductions photographiques en héliogravure de Marc ATTALI augmentés de citations poétiques. Très bel exemplaire !

Martin Parr, vol 1,...




Gilioli

Jianou, Lassalle


Paris, Arted, Editions d'Art, 1971. In-4 (21,5 x 27,5 cm) cartonné sous jaquette illustrée de 170p, sous emboitage. Texte de Ionel Jianou et Hélène Lassalle, 97 illustrations en n&b. Deux envois autographes de Gilioli et de Jianou à Adam Saulnier et en regard un dessin original au feutre signé (initiale) et daté par Gilioli. Bel exemplaire.






José Ortiz-Echagüe. Photographs

Ortiz-Echagüe (José)


London, Gordon Fraser, 1979. In-4 oblong de 127pp., reliure sous jaquette illustrée d'une photographie. Bibliographie par Gerardo Vielba, texte en anglais et notes de José Ortiz-Echagüe. Ce magnifique ouvrage renferme 48 reproductions photos n&b. Bel exemplaire.




Méta

TINGUELY (Jean)


K.G. Pontus Hultén, Pierre Horay Editeur, 1973. Livre objet de 362 pp., reliure imitant une valisette, édition originale signé et daté par Jean Tinguely et adressé à Charles Descloux au stylo, avec des collages et pastel. Complet de son 33t "Sound belonging to Pontus Hultén's book on Jean Tinguely's work, Méta". En page 80 un dessin original...




Starring Fred Astaire

Stanley Green, Burt Golbdlatt


London, New York, W.H. Allen, 1974. First Edition, hardcover and dust jacket,501 pages, illustrations in b&w signed by Fred Astaire. Perfect condition.

Fred Astaire (May 10, 1899 – June 22, 1987), born Frederick Austerlitz, was an American film and Broadway stage dancer, choreographer, singer and actor. His stage and subsequent film career...




Le New York de Weegee. Photographies 1935-1960

Weegee (Arthur)


Paris, Denoël, 1982. In-4 de 335pp, reliure cartonnée sous jaquette illustrée, plus de 300 photographies n&b. Parfait état.




Twentysix Gasoline Stations

Edward Ruscha


Alhambra, The Cunningham Press, 1969. Third Edition (1962, 1967). Soft cover, white matt wrappers with title printed in red on cover and spine, with glassine dust jacket. Photographs by Ed Ruscha. Unpaginated 44 pp., with 26 black and white plates. 7 x 5-1/2 inches. Glassine dust jacket insoled and micros tears. For the rest Perfect...




George N. Barnard Photographer of Sherman's Campaign

Davis Keith F. & George N. Barnard


Hallmark Cards, Missouri, 1990. 1 vol. reliure cartonnée sous jaquette contenant 216 illustrations en n&b, hors texte (Hardcover. 0875296270), 232 pp. 216 ills. 25 x 32 cm. Edition Originale (fisrt edition). Parfait Etat.




Directory of Photographers in Belgium 1839 - 1905

Volume I: Text. Volume II: Album


Antwerp, Museum voor Fotografie, 1997. Paper-covered boards (hardcover) with two tipped-in illustrations housed in publisher's box, 30,2 x 24,5 cms. Volume I: Text; 485 pp. with b/w illustrations, indices, list of main sources, bibliography, volume II: Album; unpaginated, 86 (partly colour/tinted) plates. Perfect condition.




Ons Eigen land 1893 - 1908

Quatre tomes de la série, édité pour le ANWB


1908, First Edition. Cloth. Oblong Folio. Four-volume set 1908-1911. Each volume first edition. Blue cloth with illustration to front designed by T. Molkenboer. Boards with bevelled edges. Prachtige nostalgische weergave van alle hoeken van Nederland in het begin van de twintigste eeuw. "Uitgegeven door den Algemeenen Nederlandschen...